Activity-based customer survey
IC-Potential specializes in customer surveys that measure how well companies meet customer expectations. Together we design questions that are relevant to you, your customers and the industry in which you operate. We strongly emphasize that the questions are activity-based and linked to concrete actions. The customer survey will serve as a tool to give a clear focus and a more targeted development towards more satisfied customers and increased profitability.
Unique method
In addition to the classic one-dimensional measurement methodology, IC-Potential also offers a three-dimensional method, the
Gap method
. We analyze the difference between the importance of a question and how well it is fulfilled. The greater the gap between the dimensions "how important" and "how well", the greater the need for improvement. The gap methodology makes it easy and clear to see where the investments can give the greatest effect in order to increase the customer experience, loyalty and profitability.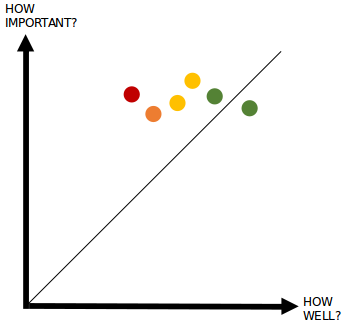 Analysis of the result
Through our proprietary analysis software
ClientPotential ™
you can create your own customer profiles and analyze the driving forces of different target groups. You can analyze the results yourself in a comprehensive or detailed manner and generate PowerPoint reports for different profiles.
IC-Potential's analysts can conduct a deep dive analysis of the results. The survey results are presented with tailor-made analyzes, correlations and benchmarking as well as focus areas for the continued work.