Employee survey
IC-Potential has conducted employee surveys with market-leading companies and organizations for 20 years. Our focus is on identifying development needs and the goal is to streamline your business and create good conditions for developing the staff to prosperous, committed and customer-oriented employees.
Our standard survey is continuously updated and in line with the latest research and prevailing legislation. Based on the standard survey, we design a questionnaire that suits your business. We offer a more traditional, extensive employee survey to capture several areas and aspects, but also regular and shorter temperature surveys.
Unique method
IC Potential offers a three-dimensional method, the
Gap method
. We analyze the difference between the importance of a question and how well it is fulfilled. The greater the gap between "importance" and "well", the greater the need for improvement. Of course, we also offer the classic one-dimensional measurement methodology.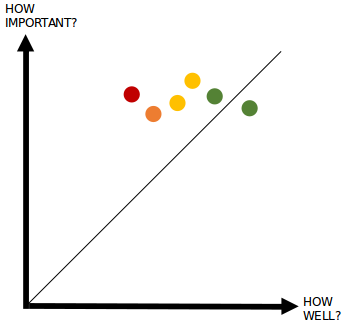 Analysis of the result
In our proprietary analysis software
HumanPotential™
, you can analyze the results in a comprehensive or detailed way, and you can generate PowerPoint reports at company, department and managerial level. With
HumanPotential™
you get a good overview of the attitudes and driving forces of the employees, and can identify different employee profiles, such as which groups are planning to leave the organization or what motivates or stresses the employees.
IC-Potential's analysts can conduct a deep dive analysis of the results. We connect the dots, make correlation analyzes and compare the results with our benchmarking index. The survey results are presented with tailor-made analyzes and recommended focus areas for the continued work.
Support in the follow-up work
Upon completion of the survey, IC-Potential can help you get started with the follow-up work.
ChangePotential™
offers support functions for both managers and HR, which increases the likelihood that the organization will reach its goal with the improvements.