Activity-based employee surveys
IC-Potential has conducted employee surveys with market leaders and organizations for almost 20 years. The goal is to streamline your business and create conditions for developing prosperous, committed and customer-oriented employees. Together we design surveys based on the latest research and current legislation. Our work process helps to clarify the development needs and activate the improvements within your business.
Method
In addition to the classic one-dimensional measurement method, IC-Potential also offers a two-dimensional Gap method. We analyze the difference between the importance of a question and how well it is met. The greater the gap is between "importance" and "well", the greater the need for improvement is.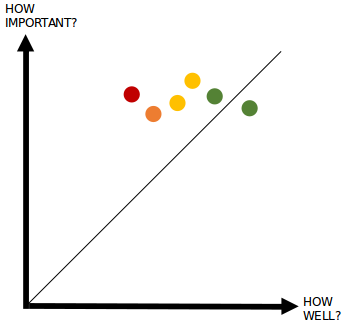 Stress and psychological health
Issues regarding psychological health is a growing problem which leads to huge costs for both society and employers. Our standard survey is continuously updated and in line with work environment regulations about unhealthy workload, offensive treatment and the law of discrimination. IC-Potentials Personalchefsindex™ (HR Index) indicates that stress and stress-related absence have increased significantly in all sectors. Read more about
Personalchefsindex™
.
Analysis of the result
In our proprietary analysis software,
HumanPotential™
, you can analyze the results in a comprehensive or detailed way. You can follow the response rate and generate PowerPoint reports for the entire company, by department or at the managerial level.
IC-Potential's analysts can conduct an in-depth analysis of the results. The survey results are presented with tailor-made analyzes, correlations, comparison with our NMI-index as well as focus areas for further work.
Support in the follow-up work
Upon completion of the survey, IC-Potential can help you get started with the follow-up work.
ChangePotential™
provides support functions for both managers and HR, which increases the likelihood that the organization reaches its goal with the improvements and changes.
IC-Potential also collaborates closely with experienced organizational consultants who can assist you with workshops, manager coaching, strategic HR support and more.
Concept for effective employee surveys
In close cooperation with our customers, we have developed a concept to work efficiently with employee surveys during a fiscal year.
1. Larger employee survey
A larger quantitative survey
Conducted each year

2. Follow-up
Discussion on department level
Create an action plan in ChangePotential™
Work with the action plan in ChangePotential™

3. Regular and fast short-surveys
Short survey to quickly take the pulse of the organization
Carried out 2-4 times a year